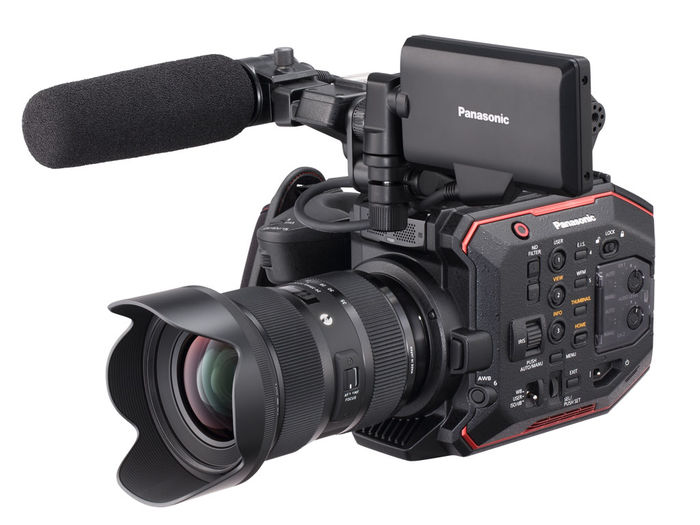 PANASONIC EVA-1
Compact and lightweight, the AU-EVA1 is tailor-made for manual filming but is also suitable for documentaries, events, commercials and music videos. For the film acquisition, we realized that there was a gap between the GH5 and the VariCam LT. With its compact size and its new 5.7K sensor, the EVA1 fills that gap for a variety of film applications.- Film Product Manager Mitch Gross

Features:
5.7K Super 35 Sensor
EF Lens Mount
4K 60p / 2K to 240p
Dual Native ISO 422 10-bit SD Card Recording
Up to 400 Mbps Recording
V-Log / V- Gamut
5.7K RAW output (future update)
Autumn 2017 arrives
ATOMOS SHOGUN
ATOMOS SHOGUN : The Shogun Atomos is a new 4K recorder with IPS Full HD 7'' monitor, which will allow you to record in 4K Apple progress or Cinema DNG RAW through its HDMI and 12g-SDI inputs, and will be able to record up to 120fps.

CHARACTERISTICS:
1920x1200 IPS Touchscreen Display
Records UHD 4K (3840x2160) up to 30 fps
Records 1080p up to 120 fps
ProRes and DNxHD 10-Bit, 4: 2: 2 Encoding
Uncompressed Cinema DNG Raw 4K Support
UHD 4K-Capable HDMI Input
12G-SDI Input and Loop-Output
Stores to Single or Raided HDDs or SDDs
Rec. 709 Calibrated with 3D LUT Support
XLR Audio LEMO Breakout Cable Included
Fujifilm Cabrio PL 4K
Cabrio PL 4K Cabrio lens offers unsurpassed quality and unprecedented level of flexibility.

The digital camera 'XK6x20' digital zoom offers high optical performance compatible with 4K cameras and covers a wide focal range of 20mm to 120mm. It has an exclusive removable unit, which makes it suitable for use as a standard PL lens or as an ENG style lens. The XK6x20 also has focal distance adjustment with frame, macro function, and is compatible with LDS (Lens Data System) and metadata / i. With a T Stop T3.5 from end to end, weighing only 2.9 kg including the servomotors, the Cabrio XK will surely become the most desired lens.

XK6x20 Specifications:

Camera Format: PL
Focal length: 20 - 120 mm
Zoom range: 6 ×
Maximum Aperture Photometric T-No .: 1: 3.5
Diaphragm Sheets: 9
Rotation of the Focus (degrees): 200
Rotation of the Zoom (degrees): 90
MOD From the plane of the image: 1.1 m / 3 '8' '
Dimensions of the object in MOD
Aspect Ratio * of 16: 9:
20 mm 1109 × 624 mm
120 mm 182 × 102 mm
Angular field of view:
Aspect Ratio * 16: 9:
20 mm 63 ° 41 '× 38 ° 30'
120 mm 11 ° 49 '× 6 ° 40' '
Macro: Available in Diameter x Length: 114 × 226 mm
Weight: 2.9 kg / 2.4 kg without unit
Features:
With Digital Removable Unit
Focal Distance Adjustment Of the Frame - compatible with LDS and / i
Lens hood included - supports the filter M127
TERADEK 4K H265
The US manufacturer of wireless video transmission equipment leaps to the H.265 standard. , And launches a new line of CUBE 4K HEVC encoders and decoders.

With the new CUBE H265: It can be done point-to-point using MPEG-TS, RTSP or any other compatible protocol. It allows video monitoring in Direct on an iOS device. Turn the camera into a wireless video transmitter with the Live: Air iOS app. They support MPEG-TS, RTSP, RTMP, HLS or TDS protocols. Teradek has also developed new codecs for Slice and T-Rax cards. These equipments offer the same performance as the CUBE, but in enrackable format and with a configuration of high density.
Do you want to see more Products?